Ideas that bring people together across borders – through education

Reimagining politics with tomorrow's leaders
MEURER EDUCATION is educating and working with university students worldwide to reimagine politics. These students are tomorrow's leaders. We both educate and collaborate with them.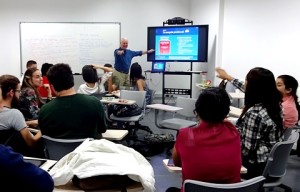 Whether through intensive university seminars, political roundtables, public speaking or partnering with local change-oriented micro-projects, our mission is to expand the range of the politically possible at all levels. The project was started by political strategist and writer Michael Meurer based on his awareness that while the United States has a disproportionate economic and political impact worldwide, we often fail to interact and share with people in other nations in ways that allow us to both learn and teach. As Michael travels, teaches and participates in roundtables and other events, he is also building a global change-oriented network by finding and partnering with exciting new projects worldwide.
Examples include a new European social mapping initiative that is now spreading in Latin America; a local education micro-project teaching English language and cultural history in Comuna 13, one of the poorest barrios in Colombia; a project building a global network of social entrepreneurial hackers to educate university students and community leaders that started in Chiapas, México; a project in Guadalajara, México working with tech leaders to create models for technology transfer to vulnerable communities, and more. Michael's work through Meurer Education has been featured on CNN, and Michael is traveling worldwide through 2017 to expand the program.
CULTURAL EXCHANGE
The most powerful form of cultural exchange is living and working in another country. We are helping our students connect with peers, publish articles and interact with political and social leaders and employers in the US.
For information on classes and scheduling, to subscribe to our newsletter or to learn how you can help local education micro-projects, please use the contact form on this website.
MEURER EDUCATION ON SOCIAL MEDIA

PLEASE DONATE – MEURER EDUCATION DEPENDS ON YOUR GENEROUS SUPPORT TO SUSTAIN OUR EDUCATIONAL WORK
Fundraising Websites – Crowdrise